Contact us by phone, email or fill out our contact form.
NACE Coating Inspectors
NACE International provides professional training and certification for coating inspectors. This association sets high standards of professionalism that define the industry. Fully certified NACE inspectors ensure the highest level of quality control on all coating projects and coating control systems under their authority.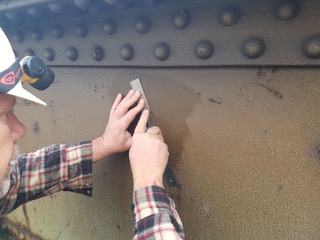 NACE Coating Inspector Levels
NACE certification has three different levels: Basic (level 1), Intermediate (level 2), and Advanced (level 3). Receiving a level 3 certification means that an inspector has demonstrated an exceptional degree of knowledge about coatings and related topics like environmental conditions and surface preparation. It also means that the inspector has demonstrated the ability to apply that knowledge to practical applications in the field.
NACE Coating Inspectors at Toronto Industrial Painting
At Toronto Industrial Painting, all of our NACE certified inspectors are NACE coating inspector level 3. They all have years of field experience and regularly return to NACE for additional training and re-certification. Our clients work in fields where exceptional quality control is essential and we ensure that our NACE coating inspectors are the top in the field.
"Excellent, reliable, and professional." This is what clients say about Toronto Industrial Painting NACE coating inspectors. Find out why we our contractors have the best reputation in among Ontario businesses by signing up for a NACE coating inspection today!
How NACE Coating Inspections Help Your Ontario Business
Located adjacent to the Great Lakes, paint coatings in Ontario are particularly vulnerable to degradation from humidity, storm damage, and water damage. This type of damage can be difficult to identify for the untrained.
Our NACE coating inspectors can work with your business from day one to limit the damage to your coatings and to fix any damage as quickly as possible.
Before we even apply a paint coating, our NACE coating inspectors will do a failure analysis to determine what points of failure are most likely for your future coating. They will create a custom design that includes corrosion control systems that are customized to the specific needs of your structures.
Once the coating is applied, our NACE coating inspectors will provide regular inspections over the years, specifically looking for degradation or corrosion. Using specialized tests like an adhesion test, they are able to determine whether new coatings can be applied over the old or whether the old needs to be removed first. This due diligence ensures that the paint coatings on your industrial structures last as long as possible.
Ready to Get Started?
Contact Toronto Industrial Painting today at 416.444.5092 for a free consultation.
See what our clients say about us: